University Traditions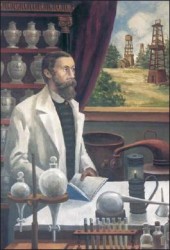 I. Łukasiewicz,
painted by M. Wątorski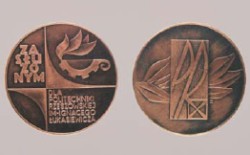 The Medal of Merit
The University is named after Ignacy Łukasiewicz, who is remembered as the father of the modern era in the mining and oil industries and inventor of paraffin lamp. He was an innovator who did most of his work in this region in the nineteenth century.
When the University was established, different aviation traditions began to take shape with the training of its first aviators.
Insignia and gowns were not worn at official ceremonies until 1972, but since that time, the Rector, deans and Senate members attend an annual inauguration where doctoral nominations and the matriculation of students takes place, and they don regalia including handcrafted sceptres and medallions produced by local artisans. Afterwards, the students and lecturers go, as a solemn group, to Rzeszow Cathedral to attend mass.
The statutes of the University officially introduce its symbol. The University initials (PRz) symbolise the name Politechnika Rzeszowska (the Rzeszow University of Technology). The Maltese Cross, which is the heraldic arms of Rzeszow, is incorporated into the initials. The background is blue in colour.
Since 1976, the I. Łukasiewicz Medal of Merit has been awarded to distinctive researchers. The ceremony of awarding outstanding people with an honorary doctor title, Honoris Causa, is also celebrated in a solemn way.
In 1994, the University began to publish Gazeta Politechniki, The Polytechnic Gazette, which is a continuation of Wiadomości Rektorskie 1988-93. The magazine describes news about on- campus life and research awards, as well as general information to spread well-being.
At Christmas, the student body, local diocese, special guests and the Połoniny ensemble gather to share in Polish Christmas traditions where we break unleavened bread with each other and wish each other well, then share in Christmas cheer with carolling.
In May of each year, the student body celebrates Juvenalia, a "celebration of youth", and they are given the town keys by the mayor of Rzeszow for three days – when they symbolically rule the town. The students also have plenty of other traditional events at the beginning of the academic year and at mid-term.
Even though the University has only recently celebrated its 50th year, it has managed to establish quite a lot of academic traditions. We warmly invite you to come, learn and grow with us!