Intelligent control system of individual rainwater retention for sewer systems
2023-08-08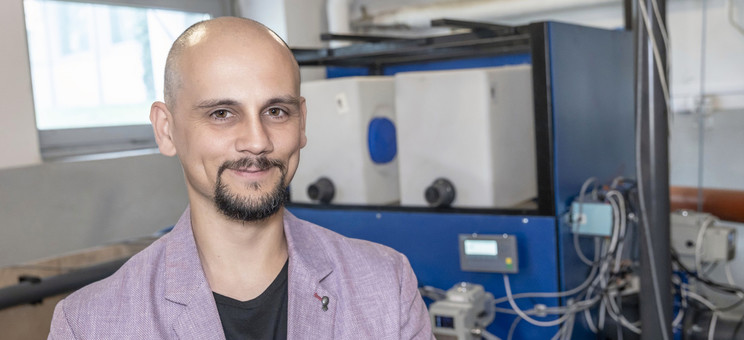 Kamil Pochwat, BEng, PhD, from the Department of Infrastructure and Water Management at the Faculty of Civil and Environmental Engineering and Architecture, is the author of the design of an innovative rainwater storage tank. The distinctive hydraulic system in combination with an intelligent control system not only increases the efficiency of the retention facility, but also makes it possible to lease the retention potential for drainage networks.
The project concerns the development of a rainwater reservoir for a private user, whose retention volume will be used by the user for private purposes and by the operator of the drainage network to increase the retention capacity of the municipal system. The innovative hydraulic system developed allows the retention potential to be leased, thus not only minimising the planned costs associated with the rainwater fee, but even reversing this relationship. The implementation of this solution offers potential opportunities for capacity leasing, which can contribute to fundraising.
An advanced controller with an implemented algorithm based on Real Time Control principles is responsible for controlling the solution. The widespread use of this solution will reduce building operating costs, digitise urban infrastructure, increase catchment area retention and may also contribute to reducing climate change. This will be realised by an intelligent control system connected to the digital network in a forced and automatic manner.
The use of the retention capacity of the accumulator by the operator of the external networks will be in the form of a lease, so that the device will generate revenue. The aim of this project is to develop solutions installed on private properties to collect rainwater for the user's use, while allowing the retention capacity to be leased to municipal drainage systems.
By installing the described solution, it is possible to increase the seasonal discharge of rainwater into the ground from 5 to as much as 50 m3. At the same time, depending on the size of the device, it is possible to reduce the amount of water diverted into the network during rainy periods from 30 to 100%. This solution also makes it possible to reduce rainwater charges by up to 0 PLN.
The intelligent control system for individual rainwater retention for sewerage systems is a response to demand from the economic sector. Taking into account the 'My Water Priority Programme' of the National Fund for Environmental Protection and Water Management concerning the protection of water resources by increasing the level of retention on properties and the ongoing work on the introduction of charges for rainwater discharge, there is strong market demand for solutions related to rainwater management. Solutions that are not only pro-environmental, but at the same time allow significant savings related to the operation of the building/land are particularly desirable.
Back to news list