Unconventional research by Prof. Pawel Chmielarz's group highlighted by Advanced Science News
2022-11-18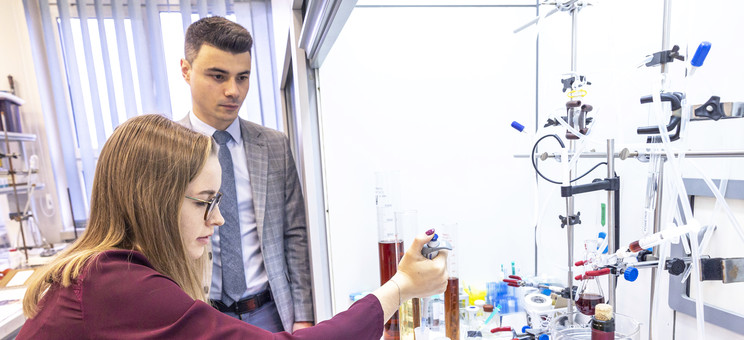 Monika Flejszar, MSc., and Pawel Chmielarz BEng, PhD, DSc, ProfTit., head of the Department of Physical Chemistry at the Faculty of Chemistry at Rzeszów University of Technology, have developed a method for the synthesis of polymers immiscible with water, using a miniemulsion based on dry wine. The original concept of our scientists has been highlighted by Advanced Science News.
Advanced Science News
The Advanced Science News platform, run by the editors of the Wiley publishing house, is dedicated to promoting the latest scientific developments from a wide range of scientific disciplines internationally. The Advanced Science News portal published an interview promoting the latest research results described in a publication titled Red is the new green: Dry wine-based miniemulsion as eco-friendly reaction medium for sustainable atom transfer radical polymerization by Monika Flejszar, MSc., Paweł Chmielarz, BEng, PhD, DSc, ProfTit., (Department of Chemistry, Rzeszów University of Technology) and Marcin Oszajca, PhD, (Department of Chemistry, Jagiellonian University), published in the Journal of Applied Polymer Science.
Research description
Scientists have developed a method to synthesize polymers that are immiscible with water, inspired by the principles of green chemistry. For their research, the chemists used a miniemulsion made from dry wine. The concept of the 12 principles of green chemistry is well known to every chemist. The rules are designed to minimize the carbon footprint and hazardous byproducts of chemical processes on both laboratory and industrial scales.
"The atom transfer radical polymerization (ATRP) technique we use in our research was invented and described in 1994 by Prof. Krzysztof Matyjaszewski, and has been developing rapidly for almost thirty years. In the laboratory of Prof. P. Chmielarz's research group, we are working on improving this method, developing new variants and using it to synthesize polymers with well-defined properties and high application potential, including in implantology or the coatings industry. Faced with the challenge of selecting a suitable solvent for the synthesis of hydrophobic compounds, inspired by the principles of green chemistry, we decided to carry out polymerization using an unconventional solvent such as wine," - says M. Flejszar, MSc.
"In addition to being an alternative to conventional solvents, the wine-based miniemulsion has another key advantage - its antioxidant content. Chemical compounds such as ascorbic acid or sulfites present in wines can participate in ATRP processes in the role of internal reducing agents, i.e. substances that ensure regeneration of the catalytic complex. Thus, our proposed solution makes it possible to synthesize water-insoluble polymers without the need for toxic and expensive organic solvents and the addition of a chemical reducing agent." - explains Prof. P. Chmielarz.
The researchers used four types of wine for the study, including home-made raspberry wine. As M. Flejszar, MSc, points out, raspberries have a high content of ascorbic acid, hence this choice.
"Analyses of vitamin C content clearly showed that commercially available spirits have a much higher content of antioxidants introduced additionally into the alcoholic beverage during the production process. The results of these analyses were also reflected in the effects of our syntheses, and as a result, we observed the best results using a dry wine-based miniemulsion as the reaction medium," Professor Pawel Chmielarz concludes.
Those interested in the essence of applying the principles of green chemistry when developing chemical synthesis procedures, and seeking answers to the question of why polymerization in home-made wine did not yield satisfactory results, are encouraged to read the interview posted on Advanced Science News or on: Twitter - Chmielarz Research Group @Chmielarz_Group
Back to news list